Owls Class
Our topic this term is...
The Seaside!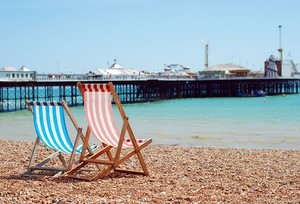 W/C 15.7.19
End of year activities!
Wednesday is transition day again!
We will be going to Y3 to see our new classroom and meet our new teacher for part of the morning.
12.7.19
English:
How did he get here!
We had lots of fun with this picture for early morning work.
You can use the picture and your imagination to write a short
story about how he got there!
Maths:
Can you create your own seaside fraction picture?
For example, you can colour half your picture blue for the sea and the other half yellow for the sand or even divide your picture into thirds to show the sky, sea and sand!
Then you can add different pictures! For example, draw 6 fish and colour half of them green or show a quarter of your icecream cones as a certain flavour! Have fun with maths!
Mathletics
TT Rockstars
Reading - daily
We have been working very hard on our reading comprehension and the different types of questions.
Have a look at the reading crew below!
What kind of questions might they ask?
Maybe an adult can ask you the different questions when
reading your reading book.
Can you read fluently without long pauses between words?
Reading your book multiple times can help you with this!
Can you use expression when you see different punctuation -
. ? or !
Spellings - weekly (three related to the sound/spelling focus of the week and three common exception words)
Our Timetable
Teacher: Miss Piccinini
TA: Mrs Worsfold
Monday- PE (outdoor), PSHE
Tuesday- RE and Computing (Mrs Dodds)
Wednesday- Topic (History/Geography/Art/DT) and Library
Thursday- Science and Reading comprehension
Friday: Topic (History/Geography/Art/DT) and PE (tennis)
*Daily Maths, English, Handwriting and Phonics